The real me!
(Taken in Cheltenham in July 2007)
Personal news
Yes, I am still living in Düsseldorf, Germany and working as a technical translator. At the moment I visit Poland a lot. The weather is usually nicer, the beer is good and somewhat cheaper, the vodka is even cheaper (but lethal), and in the summer we spent of lot of time barbecuing and partying in the evenings. In the winter they have snow and crisp, cold weather. And skiing.
My last visit to the UK was in July 2007 on the occasion of the 60th wedding anniversary of my parents. The (real) photo of me was taken in front of the house. You can of course tell that at once when you see the foliage in the background.
Where do I hang out? The same old place:
Talstrasse 60
40217 Düsseldorf
Germany
Telephone:
(home) +49-211-38 49 389
(office) +49-211-164 92 49
(mobile) +49-170-385 27 20
(fax) +49-211-35 09 54
Does anyone else still have a fax?
For the up to date, I'm on Skype. The ID is daparry. See left box.
Local Time at Düsseldorf
Weather Forecast for Düsseldorf
Location of Düsseldorf in Germany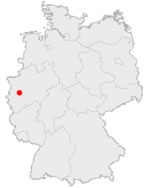 (Source: Wikimedia Commons)